Ubuntu Touch OTA-24 Released for Ubuntu Phone Users, Here's What's New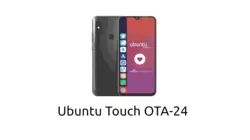 The UBports Foundation announced today the release of the OTA-24 software update for its Ubuntu Touch mobile operating system for supported Ubuntu Phone devices.
Ubuntu Touch OTA-24 is here almost five months after Ubuntu Touch OTA-23 and while it's still based on the Ubuntu 16.04 (Xenial Xerus) upstream repositories, it introduces further improvements to increase the overall stability and reliability of the mobile OS.
Highlights of this release include initial gesture support with double-tap to wake for selected devices, improvements to fingerprint unlock by allowing more backoff time between read retries, as well as support for media buttons on headsets for most Ubuntu Phone devices.