First Look at blendOS: A Blend of Arch Linux, Fedora Linux, and Ubuntu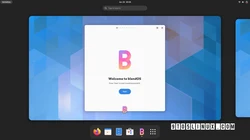 While still in development, blendOS is here to offer you "a seamless blend of all Linux distributions," as its creator wants to call it. blendOS is based on Arch Linux and GNOME on Wayland, but it lets you use apps from other popular distributions, such as Fedora Linux or Ubuntu.
This is possible because you can use the native package managers from Arch Linux (pacman – included by default), Fedora Linux (dnf), and Ubuntu (apt), which are included as containers using Distrobox/Podman. However, the DNF and APT package managers aren't included in the live ISO image, nor blendOS's own blend package manager.