Allwinner V851S/V851SE low-cost camera SoC embeds 64MB DDR2, a 0.5 TOPS NPU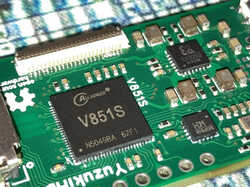 You'd usually select the V851S if you need a display, and the V851SE for cameras without a display. There's no product page on the Allwinner website, just a short announcement in Chinese, but the datasheet is available on the company's forum and that's where I got most of the information above. The processor runs Tina Linux, a fork of OpenWrt for Allwinner processors.
I found out about the new processor through the YuzukiHD board made by the same developer (GLGH_) that did the Yuzuki Chameleon board with an Allwinner H616 processor.