TUXEDO Stellaris 17 and Polaris 15 Linux Gaming Laptops Get High-End NVIDIA GPUs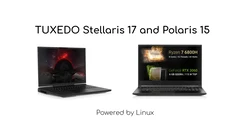 If you're in the market for a new gaming laptop, the TUXEDO Stellaris 17 and Polaris 15 Gen4 are now available for pre-order with the NVIDIA GeForce RTX 3060 graphics card and AMD Ryzen 7 6800H processor for the TUXEDO Polaris 15 model, as well as the NVIDIA GeForce RTX 3070 Ti or 3080 Ti graphics cards and AMD Ryzen 9 6900HX processor for the TUXEDO Stellaris 17 variant.
The TUXEDO Polaris 15 features a 15.6-inch Full-HD (1920×1080) IPS 144 Hz 16:9 or WQHD (2560×1440) IPS 16:9 165Hz matte display options, while the TUXEDO Stellaris 17 can only be purchased with a 17-inch WQHD (2560×1600) IPS 16:10 240 Hz matte display. Both models can use TUXEDO Computers' external, stationary TUXEDO Aquaris water cooling system.