GNOME 45 "Riga" Desktop Environment Officially Released, This Is What's New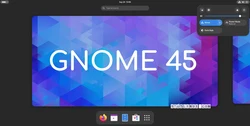 Dubbed "Riga" after the host city of the GUADEC 2023 conference in Riga, Latvia, the GNOME 45 desktop environment is here to introduce a completely revamped Settings (GNOME Control Center) app that not only uses a more modern design based on the latest LibAdwaita library, but it also streamlines various settings.
Key features to mention here are fractional scaling factors in Display settings, allowing you to choose from 100%, 125%, 150%, or 175% scaling factors, extended Date & Time settings with options for clock and calendar, a completely redesigned Privacy panel to more quickly access the various settings there, as well as a more compact About panel.
update (by Roy)
Update on what happened across the GNOME project in the week from September 15 to September 22.