Getting Started With Portainer: A GUI Manager for Docker on Linux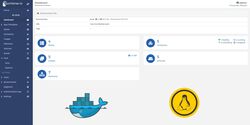 Docker is a prominent container technology widely used by system administrators and IT engineers. It's a great tool for quickly setting up complex IT environments and deploying software systems securely.
Docker comes with a robust CLI tool to get the job done, but sometimes you might think of having a graphical view of Docker containers and their related services, which the Docker CLI does not provide. That's where Portainer comes in.
[...]
Portainer is itself deployed as a Docker image and is very lightweight. It's made up of two core elements: the Portainer server and the Portainer agent. The agent communicates with the server to provide access to the node's resources.
You can install Portainer on Linux or Windows, and it even supports installation on Windows Subsystem for Linux (WSL). Under the hood, Portainer utilizes the Docker CLI to offer you a good level of abstraction.