KateOS - Getting Better with Age
Submitted by srlinuxx on Wednesday 19th of September 2007 09:30:04 AM
Filed under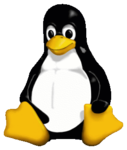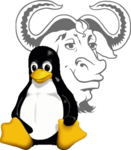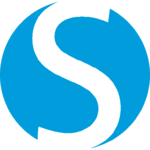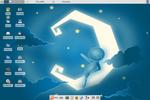 KateOS 3.6 was released a few days ago. Since KateOS has always been one of my favorite distributions and since I haven't looked at it recently, I decided to take it for a test run on my HP Pavillion laptop. It always supported the hardware on my desktop, so I was interested to see how it would fare with wireless ethernet and powersaving features. There are two versions available: a full 2.4 GB DVD and a 700 MB live CD. I chose the 700 MB live CD.
The live system starts in a text boot screen and allows one to input from a few boot cheat codes. I discovered this when my graphics weren't detected quite as closely as I like. Instead of the optimal 1280x800, I found myself at a 1024x768 desktop. This resolution doesn't look very attactive on that laptop, so I tested to see if using the screen=1280x800 would do the trick. It did indeed add that resolution to the /etc/X11/xorg.conf file, but I still was looking at a 1024x768 desktop. "nv" was used for the 7.2.0 Xorg and the refresh rates were close to what I normally see used for this machine. I don't know what the issue was, but I edited the configuration file to remove any other resolutions from the Modes line and restarted XFCE. I still only got 1152x768, but that was close enough for me.
I hate to start off with what sounds like a negative note as KateOS is a nice distro and offers many improvements this release. The first thing one notices is the new look. This time in shades of blue, my favorite, it looks as nice as ever - if not moreso. Kate always offers a nice customized appearance.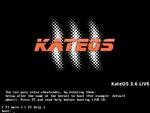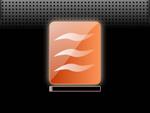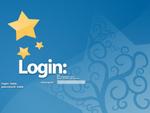 But as I began "computing" I realized I probably should have downloaded the DVD image. My first task after wrestling with X and my screen resolution was to get the internet connection working. I have a wireless ethernet chip that is not supported natively in Linux, so I must resort to Ndiswrapper. After loading the ntfs module, extracting the driver, and modprobing ndiswrapper I was not able to connect to my router as long as I kept WPA enabled. It seems the wpa_supplicant binary isn't included in the small version I downloaded. So, I moved on.
Next up was scaling down the cpu cycles to reduce heat and wear & tear on the processer (and to save battery power if I pulled the plug). Powernow-k8 and cpufreq_ondemand are all that's required for this basic purpose. Loading them and echoing ondemand to the /sys/devices/system/cpu/cpu0/cpufreq/scaling_governor file did the trick. There didn't seem to be a graphical battery monitor, but you could manually monitor from /proc/acpi/battery/BATX/state.
Now with the cpu idling at 800 Mhz it was time to test the applications. Even the smaller image includes lots of great software. The default desktop is XFCE 4 4.4 with Linux 2.6.21.4, Xorg 7.2.0, and GCC 4.0.2 under the hood. MPlayer, Gxine/Xine, Audacious, and XFmedia was there for multimedia enjoyment. I tested several video formats, and MPlayer could play them all. As usual Xine had no idea what a .bin file was, but it was up for avis and mpegs. The Graphics menu had The GIMP, GQview, gtkam, Xpaint, and XSane listed. No trouble was experienced with any of those. Some of the Accessories included Graveman, xcalc, and Print Manager. Network apps include Firefox with multimedia plugins, Thunderbird, Pidgin, Xchat, gFTP, and Dillo. Firefox froze and hung on me after allowing it to install Flash while trying to use a video site, and I couldn't kill it off. kill, killall, kill -9, kill -15, just kill me... Nothing worked but rebooting. The OpenOffice.org suite is listed in the menu, but it wouldn't start here. The System menu was chocked full of tools and utilities for manipulating the system. Some of these were GParted, GTKfind, glxgears, terminals, and Services-setup. In this same submenu we also find several of Kate's original tools such as KateLan, KatePKG, Realm, neoconfig, adslconfig, update-notifier, and Agent.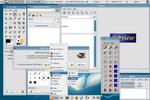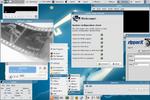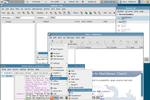 KateLan is a network configuration tool. It listed such options as hostname and how to connect. My wlan0 device never did show up in it, but eth0 was there. KatePKG is a graphical package management tool. One can browse installed or available packages and install software. There were quite a lot of packages available including KDE and GNOME. Wpa_supplicant wasn't available. Realm is the repository manager. This is where one sets up the install mirrors. Realm comes with many already setup and about 4 enabled. I test installed a few packages and it worked good. Neoconfig appeared to be the hardware end to dsl configuration and adslconfig is a dsl connection config tool. The update-notifier checks KateOS mirrors for software updates. When clicked it reported no updates were available [just yet]. Agent is the new KateOS graphical hard drive installer.
KateOS of the past used a variation of the Slackware ncurses installer. But now we have this great graphical installer that is run from the live CD environment. It walks the user through the usually needed steps such as partitioning, choosing partitions and filesystems, and setting the bootloader option. After install one sets the root password and sets up a new user account.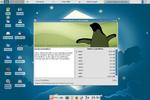 Other than the Firefox and OpenOffice.org snafus, I found this KateOS as stable as ever. Performance when using the live CD was good. There was sometimes a second or so lag when navigating the menu or typing a command into the terminal. USB flash drives are detected automagically and icons appear on the desktop. Clicking the icon would mount the drive, but the user couldn't write to it. There are some handy help files on the desktop too.
All in all, I saw some wonderful improvements with the inclusion of the new graphical installer and katepkg. I like the new look. There were some handy gui tools to configure your system. The included software was sufficient and the repositories were amply populated, well other than the wpa thing. I think for a desktop machine it would be a great out-of-the-box Linux solution for your personal needs. For a notebook, it could still be great but one would have to work a little bit to get it all going.
KateOS Homepage
Purchase and download information.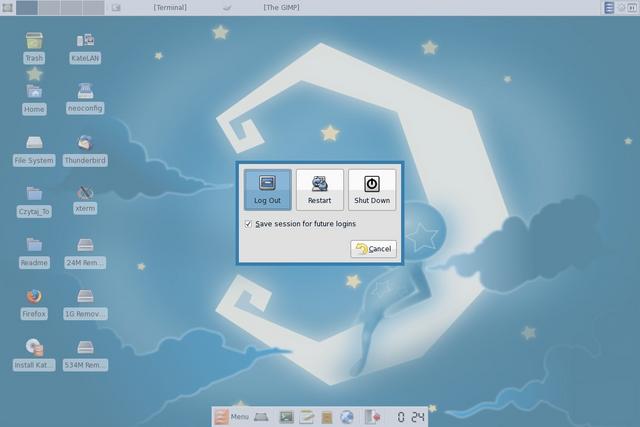 ---
---
»
Printer-friendly version

45836 reads

PDF version
More in Tux Machines
digiKam 7.7.0 is released

After three months of active maintenance and another bug triage, the digiKam team is proud to present version 7.7.0 of its open source digital photo manager. See below the list of most important features coming with this release.

Dilution and Misuse of the "Linux" Brand

Samsung, Red Hat to Work on Linux Drivers for Future Tech

The metaverse is expected to uproot system design as we know it, and Samsung is one of many hardware vendors re-imagining data center infrastructure in preparation for a parallel 3D world. Samsung is working on new memory technologies that provide faster bandwidth inside hardware for data to travel between CPUs, storage and other computing resources. The company also announced it was partnering with Red Hat to ensure these technologies have Linux compatibility.

today's howtos