MNT Pocket Reform 7-inch modular mini laptop takes a range of Arm (and FPGA) modules
Submitted by Roy Schestowitz on Tuesday 28th of June 2022 11:21:38 AM
Filed under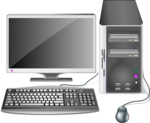 MNT Pocket Reform is an open-source hardware mini laptop with a 7-inch Full HD display, an ortholinear mechanical keyboard, and trackball, that follows the path of its older and bigger sibling: the MNT Reform 2 laptop initially launched with an NXP i.MX 8M quad-core Arm Cortex-A53 module.
The new laptop will not only support a similar "NXP i.MX 8M Plus" module but also a range of other Arm modules namely an NXP Layerscape LS1028A module with up to 16GB RAM, the Raspberry Pi CM4 module via an adapter, Pine64 SOQuartz (RK3566, up to 8GB RAM), as well as based on AMD Xilinx Kintex-7 FPGA for industrial use.

Also: STEPFPGA supports Verilog on cloud-based IDE and Lattice's Diamond IDE
»
Printer-friendly version

1768 reads

PDF version
More in Tux Machines
today's howtos

Open Hardware: XON/XOFF and Raspberry Pi Pico

In the olden days of computing, software flow control with control codes XON and XOFF was a necessary feature that dumb terminals needed to support. When a terminal received more data than it could display, there needed to be a way for the terminal to tell the remote host to pause sending more data. The control code 19 was chosen for this. The control code 17 was chosen to tell the remote host to resume transmission of data.

Dmytro Panin is at it again, creating a teeny system monitor for his MacBook from scratch with help from our favorite microcontroller, the Raspberry Pi Pico. This plug-and-play system monitor (opens in new tab) lets him keep a close eye on resource usage without having to close any windows or launch any third-party programs. The device is Pico-powered and plugs right into the MacBook to function. It has a display screen that showcases a custom GUI featuring four bar graphs that update in real-time to show the performance of different components, including the CPU, GPU, memory, and SSD usage. It makes it possible to see how hard your PC is running at a glance.

Security Leftovers

How to Apply Accent Colour in Ubuntu Desktop

A step-by-step tutorial on how to apply accent colour in Ubuntu desktop (GNOME) with tips for Kubuntu and others.