Richard Stallman Said to Have Cancer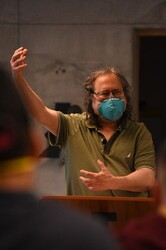 OUR sister site notes with concern that Richard Stallman has cancer, according to sources that are considered reliable. According to what we heard, "RMS was undergoing cancer treatment [and] I think he said he believes he can recover from it [...] I saw a photo of him from the recent GNU celebration [and] he looked visibly weaker." (No new media here though)
Dr. Stallman turned 70 earlier this year and two days ago his most famous project, GNU, turned 40. █
It's FOSS News:
To celebrate the GNU Project's 40th anniversary, the Free Software Foundation (FSF) is organizing a hackday on Oct. 1 (GNU 40) for families, students, and anyone else in the US.

Before the event, the project turned 40 on Sept. 27, a part of the community along with Richard Stallman gathered for the GNU Hacker's Meeting in Biel, Switzerland.

While he shared his thoughts at the event, he also revealed that he has cancer.

Looking at the keynote, Richard Stallman does not look the same without his iconic beard and long hair. Considering he is already undergoing chemotherapy to treat cancer, that explains it.
The Register:
Richard Stallman has revealed he is undergoing treatment for non-Hodgkin lymphoma, a form of cancer of the white blood cells, but says that his prognosis is good.

The 70-year-old Stallman appeared at the GNU Project's 40th anniversary celebration in Switzerland on Wednesday a very changed figure. The GNU project is currently celebrating four decades of work on Free Software, as we wrote last week, and Stallman appeared on stage to make the closing speech in Biel/Bienne. His characteristic long hair is gone, as is his beard.