GNOME: Cambalache 0.16.0 and Flatseal 2.1.0 Released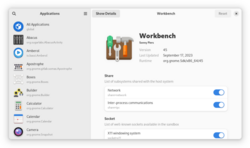 Hello, I am pleased to announce a new version of Cambalache

Version 0.16.0 targets the newly released GNOME SDK 45 and includes all the new changes in Gtk and the new Adwaita release.

These release should also help people experiencing issues with the workspace since it has a brand new version of webkit.

I am happy to announce a new release of Flatseal. This release comes with refined visuals, improved performance, support for a new permission, quality of life additions, and fixes.