Raspberry Pi 5 Announced for End of October, Here Are the Specs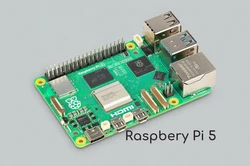 Raspberry Pi 5 is powered by a Broadcom BCM2712 2.4GHz Quad-Core 64-bit ARM Cortex-A76 CPU with 512KB per-core L2 caches and a 2MB shared L3 cache, and a VideoCore VII GPU capable of supporting OpenGL ES 3.1 and Vulkan 1.2 graphics technologies. The device also comes with dual 4Kp60 HDMI display output and a 4Kp60 HEVC decoder.
Connectivity-wise, Raspberry Pi 5 comes with dual-band Wi-Fi 802.11ac, Bluetooth 5.0 LE, two USB 3.0 ports supporting simultaneous 5Gbps operation, two USB 2.0 ports, as well as a Gigabit Ethernet port with PoE+ support, which requires a separate PoE+ HAT that will be available shortly after the SBC's release.
Update (by Roy)
New video:
Another video:
OSMC:
CNX:
3 more:
OMG Ubuntu:
Linuxiac and PCWorld:
LinuxGizmos:
More from Jeff:
It's FOSS News:
Many more links:
3 more:
peppe8o:
A technical look:
Another pair of stories:
More from Jeff: