ExTiX 22.9 KDE Plasma together with Anbox ('Android in a Box' with Google Play Store pre-installed) :: Build 220922 (UPDATED)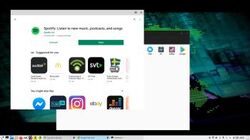 I have made a new version of ExTiX – The Ultimate Linux System. I call it ExTiX 22.9 KDE Anbox Live DVD. (The previous KDE/Anbox version was 21.10 from 211007). I have now included Anbox (Android in a Box – Anbox puts the Android operating system into a container, abstracts hardware access and integrates core system services into a GNU/Linux system. Every Android application will be integrated with your operating system like any other native application). So now you can run Android apps in ExTiX. GAPPS (Google Play Services and Google Play Store) are pre-installed in ExTiX 22.9. The second best thing with ExTiX 22.9 is that while running the system live (from DVD/USB) or from hard drive you can use Refracta Snapshot (pre-installed) to create your own live installable Ubuntu/Anbox system. So easy that a ten year child can do it!
ExTiX 22.9 KDE Plasma DVD 64 bit is based on Debian and Ubuntu 22.04.1 LTS. The original system includes the Desktop Environment Gnome. After removing Gnome I have installed KDE Frameworks 5.92.0 with KDE Plasma 5.24.6. KDE Frameworks are 60 addon libraries to Qt which provide a wide variety of commonly needed functionality in mature, peer reviewed and well tested libraries with friendly licensing terms.
UPDATE
Now in Linux Mag:
The developers of the ExTiX Linux Distribution have released a new version that includes added support to make installing and using Android apps on the desktop a breeze.

ExTiX is a KDE Plasma-based Linux distribution that has recently enjoyed a new release, 22.9, which adds something special into the mix…the ability to easily install Android apps.

The ExTiX developers have added Anbox into the mix with support for Google Play Services pre-installed. Because this take on Anbox comes complete with Google Play Store integration, not only is the installation of Android apps simplified on Linux, but the apps should run more dependably and predictably.