A Damn Small Sunday
Submitted by srlinuxx on Monday 9th of May 2005 04:41:51 AM
Filed under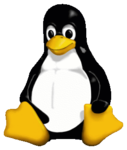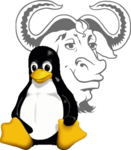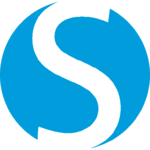 Damn Small Linux released version 1.1 Thursday, May 5 with a few new features and some fixed bugs, yet still a 50MB download. Actually it's a 49.1 MB download. Also avaiable are bootable 128MB USB pen drives and an embedded on usb version (that will run from within a booted os without having to reboot specifically into dsl). I couldn't let this occasion sneak by without notice.
I downloaded my sparking new dsl-1.1.iso in just a few minutes it being so damn small, then promptly cdrecord dev=ATAPI:0,1,0 dsl-1.1.iso -v . I booted the livecd to fully functioning basic hardware: net, sound, and graphics. Hardware detection comes from Knoppix and has always been quite good. dsl-1.1 is built on top of linux-2.4.26 and some new features (according to the changelog) include:
New boot time option "secure" will prompt for passwords for root & dsl
New boot time option "protect" will prompt for an encryption password and then triple des encrypt the backup file
New boot time option "host" to pass hostname. Use as boot: dsl host=web123
Added webdata, a triple des secure backup/restore to remote ftp server
lspci now display textual description from pci database
Added button to emelfm "Add2Filetool" to easily select and add files to the filetool.lst. Works from CLI as well
Updated word view, excel view, and powerpoint view to accept spaces in filenames -- note only these MS utils will support this feature
Corrected group bug in /usr/bin/rebuildfstab
Changed typos in Getting Started
Created work-around for the improper interactions of just a few programs with restarting xtdesk from within emelfm
dsl-embedded upgraded to qemu-0.7
On the fluxbox xtdesktop we find the usual suite of applications ranging from the indispensable XTerminal to xZGV. These include Firefox, Dillo, Emelfm, xMMs, Xpdf, FLwriter, and Xpaint as well as Damn Small's own DLSpanel and MyDSL. Included are a couple nice themes (styles) and a great gkrellm-like mix of wm applets. I chose Tree_and_Moom, more for the window decorations than the wallpaper.
In the menu one can find a many more useful applications ranging from A to Z, well, from Beaver to Xcalc. These include M$ document viewers, gPhone, Slag spreadsheet and Net Dictionary. The net menu comes with browsers, irc clients, SMBclient, Microcom and Telnet as well as a "Get Flash Plugin" app. Some things in the Tools menu are "Make my DSL CD remaster", CD Burn App, Midnight Commander, Install to Hard Drive and Install to USB Pendrive as well as Enable Apt and Synaptic.
DLSpanel is a graphical system configuration tool used to set up things such as printer, ssh server, net conections, and filesharing.
Most interesting is the MyDSL extention panel. With it one can download all sorts of dsl applications ready to install. I used it to install Enrapture and TheGimp for example. It's not an installer per se, but it does download the application tarballs to a location of your choice and those tarballs are binaries ready to install. All one does is uncompress and untar it in the root directory and wha-la it's installed. The packages apparently include all needed dependency files as well because my packages worked with no fuss (save the XFree86 configuration).
Clicking "Enable Apt" in the menu causes a terminal to open and apt-get begins building the source directory files. Clicking Synaptic begins it downloading then installing the graphical front-end as well as placing a xtdesk icon. Oooo, neato! Let's install something.... <short pause> Yep. Works.


Next is the really big test. Install to hard drive. I fired up fdisk and it kinda puked on reading my entire drive. I can't explain that as fdisk usually works well from gentoo or others, but no matter really, I didn't need to change any partitions. (Later I noticed the documentation recommends using cfdisk.) I then deleted the data off that partition and ran mkfs.ext3 on said partition and typed into a terminal dsl-hdinstall. It then reformatted the partition and made the filesystem, so my manual steps weren't necessary. Next the installer asked if I wanted the enhanced install, then proceeded to install the contents of the cd in ramdisk and extra files from a chosen remote ftp directory. It asked about installing lilo, but I knew manual intervention would be necessary on my install, so I declined. I mounted my main os and edited the lilo.conf, copied the boot files to my /boot partition, and ran lilo. I got so anxious that I forgot to move all those screen dumps I had been taking for my article, but nothing I could do about it then, except sigh a heavy sigh and see if dsl would boot. Boot it did.
During boot up it prompted me to set up a root password and asked if I wanted to set up a user with password, then it booted into the familiar damn small desktop as described above. To my elation I found not only the application(s) I had installed while running the livecd, but all the files from the home directory. Saved were all my screen dumps and my enthusiam for writing this article.
I preceeded to download thegimp, the kernel sources, XFree86 and nvidia drivers through the provided MyDSL extention. I copied and edited my xorg.conf from gentoo but wonderful examples are provided in your home directory as well. I changed the .xserverrc file in my home directory as instructed from exec /usr/bin/X11/Xvesa -mouse "/dev/psaux",5 -screen 1024x768x32 -shadow -nolisten tcp -I &>/dev/null
to exec /usr/X11R6/bin/XFree86 -nolisten tcp. It took a little fiddling with the XF86Config-4 file to get it to work, but I started X after about the 3rd try. I perhaps would have had quicker results had I used one of the provided examples. You can find my XF86Config-4 here.
So, in conclusion, this release of Damn Small Linux was just as much fun as it always is. The new features helped enhance the user experience and the new-to-me features were so much fun with which to work. It never fails to amaze me all that dsl can squeeze into 50 mb.
As always, there are screenshots posted in the Tuxgallery.
»
Printer-friendly version

77342 reads

PDF version
More in Tux Machines
digiKam 7.7.0 is released

After three months of active maintenance and another bug triage, the digiKam team is proud to present version 7.7.0 of its open source digital photo manager. See below the list of most important features coming with this release.

Dilution and Misuse of the "Linux" Brand

Samsung, Red Hat to Work on Linux Drivers for Future Tech

The metaverse is expected to uproot system design as we know it, and Samsung is one of many hardware vendors re-imagining data center infrastructure in preparation for a parallel 3D world. Samsung is working on new memory technologies that provide faster bandwidth inside hardware for data to travel between CPUs, storage and other computing resources. The company also announced it was partnering with Red Hat to ensure these technologies have Linux compatibility.

today's howtos