slashdot effect
Submitted by srlinuxx on Friday 18th of March 2005 04:21:24 PM
Filed under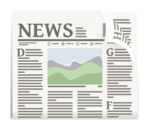 I can only apologize for the slowness and inaccessibility of the site past coupla days and that one other occurrence last month I guess it was. I was /.'d last month and osnews'd yesterday (continuing today). I can't really do much about it right now. I subscribe to bellsouth's largest business pipe in our area, but it's still quite limited upstream. The only way I can think of to alleviate this condition is to perhaps consider off-site hosting. I don't really want to do this for several reasons, but the main one is the financial considerations. Fortunately (or unfortunately - depending upon how you look at it) this only happens once in a while, so I guess I'll (we'll?) have to just live with it for now. If this issue continues to come up, I'll look at my alternatives more closely.
Some folks have joked that my site had been taken down, and for now this hasn't been true. As my logs will testify, my server continued to function at all times, saddly I ran out of pipe. I have a fair amount of confidence in apache (and drupal) to handle large loads and hopefully we won't have to deal with that issue.
Anyway, all that to say, thanks so much for visiting my little corner of the web. It's gratifying to receive so many hits on my original work, yet it's kinda a double-edge blade, and you, the visitor, bear the brunt. I'm sorry I don't have the bandwidth to handle those large loads so no one is denied access or their visit is painfully slow. I can't thank you enough for visiting and your comments. And of course, special thanks to pclinuxonline, Slashdot, osnews, userlocal and all the others for carrying my stories.
Thank you sincerely,
Susan
»
Printer-friendly version

14818 reads

PDF version
More in Tux Machines
digiKam 7.7.0 is released

After three months of active maintenance and another bug triage, the digiKam team is proud to present version 7.7.0 of its open source digital photo manager. See below the list of most important features coming with this release.

Dilution and Misuse of the "Linux" Brand

Samsung, Red Hat to Work on Linux Drivers for Future Tech

The metaverse is expected to uproot system design as we know it, and Samsung is one of many hardware vendors re-imagining data center infrastructure in preparation for a parallel 3D world. Samsung is working on new memory technologies that provide faster bandwidth inside hardware for data to travel between CPUs, storage and other computing resources. The company also announced it was partnering with Red Hat to ensure these technologies have Linux compatibility.

today's howtos