Damn Small Look
Submitted by srlinuxx on Friday 15th of July 2005 06:10:38 AM
Filed under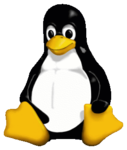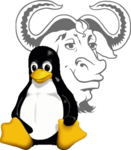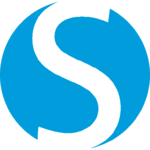 Those Damn Small Linux folks don't sit and rest on their laurels do they? Seems I had just posted an in-depth look at version 1.1 when 1.2 came out, followed swiftly by 1.2.1, and now 1.3 yesterday. I thought before too many versions passed, I'd better take a look at my favorite itty bitty Linux os and see what was new.
There's a whole list of what's new in Damn Small Linux since our last look recorded in their changelog. Many of them are under the hood, but many are in plain view. Most noticable is the new theme, a tasteful blend of earthtones in an elephant motiff. It kinda makes one think African safari. The wallpaper makes a soothing backdrop for the new transparent aterm option. The combination proves one doesn't need megabytes and megabytes to look great. Perhaps next release they can replace the default xmms skin with one that matches their chosen theme.
Also new and notable is the wonderfully compact time and date tool. Efficient and accurate, it performs its function without a lot of fuss or muss. No reason to mess with that nasty hwclock command now, just navigate the menu to System > Set time and date.
Another great improvement is the replacement of bash burn with cdw. Its Midnight Commander look and feel might present a much more comfortable interface for those pesky cd burning tasks. It has all the options of other heavyweight gui tools without all the overhead.
This and much more are awaiting you for a mere 48 mb download. Damn Small Linux is still the same great little os I've always enjoyed, but it just keeps getting better and better. See my previous article for a more complete look at many of its great features. Download this newest release here. These and other great screenshots available in the gallery.
List of changes since our last look:
Lots of changes for 1.3!
1. Created an Icon layout manager for xtdesk.
2. Improved icon and menu persistence with extensions.
3. Created a GUI date/time tool. System>Set Date Time
4. Created a frugal grub install script.
5. Replaced rxvt with aterm and added transparency xshell options.
6. Updated naim.
7. Replaced Bash Burn with cdw.
8. Changed filetool.lst, xfiletool.lst, and webdata.lst to be hidden.
9. Reduced iso by stripping libraries of debug symbols
10. Many typo's have been fixed
11. Fixed 2button mouse bug
12. Adding users capability is now defaulted
13. Fixed xvesa "leftovers" bug when choosing lower resolutions
14. Fixed eth0 disable upon use of pon
15. Fixed the null menu bug upon loading certain menuless extensions
16. Deprecated the "ci" extension type
17. Added persistence to embedded user.tar.gz for uci types
18. Internet man page lookup bug fixed
19. New default theme
20. Fixed permissions in dsl-embedded for Linus files
21. Fixed reset noload flag for hard drive installed root mydsl-loading
......
Changes for DSL 1.2.1:
1. Restored GNU tar command
2. Updated xzgv with security patch
3. Corrected boot logo screen
......
Changes for DSL 1.2:
-- New .dslrc to save local mirror and protocol.
-- New GUI Mirror selector for .dslrc, Apps->Tools->Mirror Selector
-- Enhanced mydsl boot time option to accept a directory
-- Enhanced backup/restore now defaults to /home/dsl and
-- with xfiletool.lst to specify files and dirs to exclude from backup
-- Enhanced ndiswrapper,prism2, iwconfig GUI's for public access points
-- Enhanced mydsl to prevent non-DSL user corruption
-- Enhanced frugal and pendrive scripts to allow updates
-- Updated monkey webserver to 0.9.1
-- Updated busybox to 1.0
-- New boot logo screen.
-- New default theme, Tree_and_Moon
»
Printer-friendly version

80437 reads

PDF version
More in Tux Machines
digiKam 7.7.0 is released

After three months of active maintenance and another bug triage, the digiKam team is proud to present version 7.7.0 of its open source digital photo manager. See below the list of most important features coming with this release.

Dilution and Misuse of the "Linux" Brand

Samsung, Red Hat to Work on Linux Drivers for Future Tech

The metaverse is expected to uproot system design as we know it, and Samsung is one of many hardware vendors re-imagining data center infrastructure in preparation for a parallel 3D world. Samsung is working on new memory technologies that provide faster bandwidth inside hardware for data to travel between CPUs, storage and other computing resources. The company also announced it was partnering with Red Hat to ensure these technologies have Linux compatibility.

today's howtos