Gemini Articles of Interest
A Gemini client* is needed for the following links.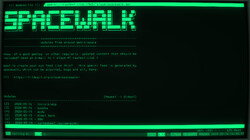 Technology and Free Software

Internet/Gemini

I am now introducing AuraGem Music's new Public Radio! It livestreams public domain and royalty free mp3 music over Gemini.

Songs should be properly randomized now :D

I have also made an announcement post for the AuraGem Public Radio that has more information on Supported Clients as well as a new project that I intend to work on very soon...
*
Gemini links can be opened using
Gemini software
. It's like the World Wide Web but a lot lighter.