MediaTek Filogic 860 & Filogic 360 WiFi 7 chipsets target mainstream BE7200 routers and clients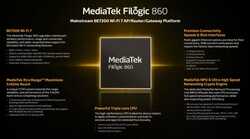 MediaTek has unveiled two new WiFi 7 chipsets with the Filogic 860 tri-core Arm Cortex-A73 SoC designed for up to BE7200 mainstream routers and gateways and Filogic 360 WiFi 7 and Bluetooth 5.4 chip for client devices such as smartphones, PCs, laptops, set-top boxes, OTT streaming boxes, etc… for up to 2.9 Gbps bandwidth.
The company says the Filogic 860 will be found in WiFi 7 enterprise access points, service provider Ethernet gateways and mesh nodes, as well as retail and IoT router applications. There's no information about software support, but MediaTek will likely provide support for Linux-based distributions like OpenWrt and/or Debian.