EndeavourOS Ditches Xfce for KDE Plasma with the Galileo Release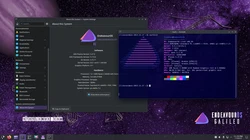 Apart from being powered by the latest and greatest Linux 6.6 LTS kernel series, the biggest change in EndeavourOS Galileo is the adoption of KDE Plasma as the default desktop environment instead of Xfce for the live session and the offline installation.
This major change won't affect existing EndeavourOS users as they will be able to continue enjoying the Arch Linux-based distro with their favorite desktop environment. On the other hand, the devs removed the Sway, Qtile, BSPWM, Openbox, and Worm community editions from the Calamares installer as there's no one left to maintain them.
Update (by Roy)
EndeavourOS Galileo rolled out...
EndeavourOS Galileo rolled out, switching from Xfce to Plasma as the default desktop, and dropped some community editions.
OMG!Joey!
Thinking about venturing into the world of Arch-based GNU/Linux distributions? Be sure to check out EndeavourOS's latest release, 'Galileo'.
The Original:
It has taken a while to develop this release but we are still here and despite life throwing in extra challenges for each of our team members the past months, we are proud to present you our Galileo ISO with significant changes.

Before I go into further details of our release, I'd like to thank our ISO testers on both our forum and Telegram for helping us out. And community members ajgringo619, Matvey_Mochalov, and Smokey for stepping up recently to help us finish this release. Thank you so much, without your help the development of this release would've definitely taken longer.