KaOS 2023.11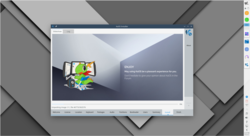 KaOS is pleased to announce the availability of the November release of a new stable ISO.
This will be the final Plasma 5 release for KaOS and includes all the latest updates, but Plasma 5 & Qt5 are not where upstream development is anymore, so it is time to fully focus on Qt6/kf6/Plasma 6. To see what the future holds, there is also a Plasma 6 Alpha ISO available. This ISO is installable, with the installer Calamares fully moved to Qt 6/Plasma 6. There are now many more KDE Applications also ready for Qt6/kf6, you will find quite a few on this ISO. Everything is now packaged in such a way that just about all kf5-based KDE Applications can also run on Plasma 6, so Plasma 6 is almost ready to fully replace Plasma 5 in KaOS. This ISO is only linked in the dedicated Forum post, not available from the Download page. The Midna theme is getting a complete overhaul for Plasma 6, major parts are included in this ISO.
Updates to the base of the system included a move to OpenSSL 3.1.4, fully updated Glib2 2.78.1 stack, LLVM/Clang 17.0.4 , kernel moved to Linux 6.5.11, Systemd 254.6, Protobuf 25.0, KMod 31, IWD 2.8, OpenEXR 3.2.0, and ZFS 2.2.0.