Steam Deck OLED Is Now Available to Order with HDR Display and Bigger Battery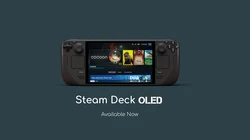 The Steam Deck OLED comes almost 1 year and nine months after the original Steam Deck with an LCD screen and introduces faster NVMe SSD storage up to 1TB, a bigger 7.4-inch display that supports HDR (High-Dynamic Range), as well as up to 1,000 nits brightness and 90Hz refresh rate, and a bigger 50Whr battery for up to 12 hours of gameplay.
Under the hood, we find a 6 nm AMD Zen 2 APU with 4 cores, 8 threads, and up to 3.5GHz clock speed (up to 448 GFlops FP32), an AMD 8 RDNA 2 CUs GPU running at 1.6GHz (1.6 TFlops FP32), and faster 16 GB LPDDR5 RAM (6400 MT/s quad 32-bit channels).
Update (by Roy)
From Boiling Steam:
As you are by now probably aware, the Steam Deck OLED has been available for purchase shortly after the initial announcement by Valve. Gamer Nexus received a unit early, and did a really exhaustive comparison between the internals of the LCD and OLED Steam Deck and the revision goes a lot farther than we might expect from the first announcement. I recommend you watch the below video. https://youtu.be/9jhRh11bTRA It turns out that the changes go way deeper than just the screen change and the larger battery. This is a real, in depth hardware revision, and here's a few pictures from the above video that capture the major changes the Steam Deck underwent.