Allwinner H3 compact SBC supports 10/100 ethernet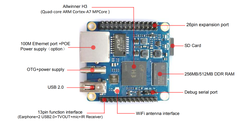 The WuKong Board H3 Zero is a small single board computer powered by a quad-core Allwinner H3 processor. The board comes with 10/100Mbps Ethernet support and various GPIOs for interfacing external devices.
This board appears to be a Orange Pi Zero LTS clone since it features the same processor and provides very similar peripherals. The product page mentions that the standard version comes with 256MB SDRAM, but it can support up to 512MB.
The User Manual indicates that the 26-pin header interface is similar to the pinout of the Raspberry Pi Model A/B. The WuKong board is also compatible with operating systems such as Android, Ubuntu, Debian, etc.