3 reasons my Linux team uses Penpot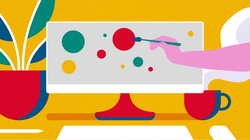 Working with Fedora exposes you to a lot of different open source software. A major Fedora website revamp started over a year ago, with the goal of improving design aesthetics, creating a style guide, planning the website strategy, and choosing the tech stack for delivering the Fedora Linux offerings website. From a design perspective, the team needed a tool to create mock-ups, a place to hold the asset libraries, and something suitable to hand off to developers once complete.
Figma is a popular interface designing tool recommended by many, but it wasn't deemed suitable because the company had recently imposed restrictions on their free plan. This concern arose before Adobe acquired Figma, so the decision not to use it was even more significant in retrospect!
The team looked into Penpot and found that it matched everyone's requirements. Penpot is the first open source design and prototyping platform for cross-domain teams. A team within Kaleidos creates Penpot. Kaleidos is a technology company started in 2011 that fully focuses on open source projects.