Proxmox VE 7.4 Comes with an Updated Virtualization Stack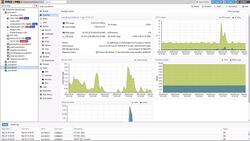 Proxmox VE (Virtual Environment) is an open-source server virtualization management platform. Based on Debian GNU/Linux, Proxmox VE supports a variety of virtualization technologies, including KVM and LXC Linux Containers. In addition, Proxmox VE also supports various storage types, including local storage, networked storage, and software-defined storage solutions.
The platform is often used in data centers and other large-scale IT enterprise environments where server virtualization is critical for efficient resource utilization and management. However, due to its ease of use and flexibility, it is also suitable for smaller-scale deployments, such as home labs and small businesses.