A Native Linux GPU Driver for Apple Silicon is Almost Ready!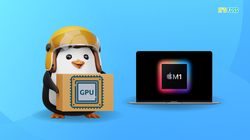 Making Linux work on an Apple silicon-powered device is what many of us want!
Thanks to Asahi Linux project, it is now a reality for testers. Sure, it is not ready for prime time, but if you are an advanced Linux user, you could try Linux on Apple M1/M2 devices right now.
Now, an exciting progress by Asahi Lina, a Linux developer, has all our attention.
We might have a working native GPU driver written in Rust sooner than expected.