What Is Crystal Linux? Everything You Need to Know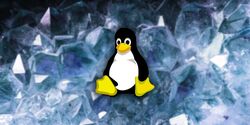 Crystal Linux is the newest Arch-based distribution on the block, and it hopes to offer a new set of features to the end-users. But how is it different from other Arch distributions, like Xero Linux, Garuda Linux, EndeavourOS, and many others available in the market?
Since the distribution market is already saturated, the need of the hour is to try and provide a fresh angle to the available technologies, to make the most out of the current user needs.
Here's everything you need to know about Crystal Linux.