Raspberry Pi and Hardware Hacking
Submitted by Roy Schestowitz on Wednesday 22nd of December 2021 01:14:23 PM
Filed under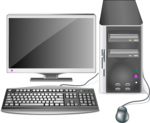 If you're looking for a Raspberry Pi, particularly a Pi 4 with 4GB, you may have to look harder than usual or prepare to wait. Due to the supply chain issues we've seen Various global reseller listings show that models of the Raspberry Pi 4 are going out of stock, and one site, Digi-Key, claims to have a 52-week "lead" time until it comes back in.

So here's where the fun began. I needed to flash the new BIOS version onto the motherboard. I have a CH341A mini programmer that also came with a clip that can be used to hook up directly to 8-pin SOIC chips on circuit boards. You can find these all over Amazon and eBay for pretty cheap. I don't want to link to them because the links will change over time, but you can search for CH341A programmer and find them. You do have to be careful with them, because at least some of them, including the one I got, have a major design flaw. They correctly power the SPI flash chip with 3.3V, but they provide 5V on the signal wires going to the chip. That would be bad, because typically 3.3V flash chips don't want to see 5V on any of their pins, not to mention all of the other connected components on the motherboard. A lot of people have had success with these programmers even with the 5V issue, but I wouldn't trust putting 5V on a pin that's supposed to have a lower voltage. There is a simple hack you can perform on the board to fix this, which I already did a while ago. You can see my hack wire in the picture below.

Just plugging things in is not enough to make PCIe hardware work with a Power Mac G4. That system for obvious reasons does not support the NVMe protocol used by modern speedy SSDs. But it appears to support the AHCI protocol used by modern hard drives, some PCIe SSDs, and all SATA SSDs. The Power Mac G4 shipped with SCSI or Parallel ATA HDDs, and it looks like Apple used PATA controllers that support AHCI, but we are speculating here. This AHCI support enables the use of PCIe SSDs that use this protocol, such as Samsung's SM951.

[8BitsAndAByte] found herself obsessively labeling items around her house, and, like the rest of the world, wanted to see what simple, routine tasks could be made unnecessarily complicated by using AI. Instead of manually identifying objects using human intelligence, she thought it would be fun to offload that task to our AI overlords and the results are pretty amusing.

She constructed a cardboard enclosure that housed a Raspberry Pi 3B+, a Pi Camera Module V2, and a small thermal printer for making the labels. The enclosure included a hole for the camera and a button for taking the picture. The image taken by the Pi is analyzed by the DeepAI DenseCap API which, in theory, should create a label for each object detected within the image. Unfortunately, it doesn't seem to do that very well and [8BitsAndAByte] is left with labels that don't match any of the objects she took pictures of. In some cases it didn't even get close, for example, the model thought an apple was a person's head and a rotary dial phone was a cup. Go figure. It didn't really seem to bother her though, and she got a pretty good laugh from the whole thing.
»
Printer-friendly version

2588 reads

PDF version
More in Tux Machines
digiKam 7.7.0 is released

After three months of active maintenance and another bug triage, the digiKam team is proud to present version 7.7.0 of its open source digital photo manager. See below the list of most important features coming with this release.

Dilution and Misuse of the "Linux" Brand

Samsung, Red Hat to Work on Linux Drivers for Future Tech

The metaverse is expected to uproot system design as we know it, and Samsung is one of many hardware vendors re-imagining data center infrastructure in preparation for a parallel 3D world. Samsung is working on new memory technologies that provide faster bandwidth inside hardware for data to travel between CPUs, storage and other computing resources. The company also announced it was partnering with Red Hat to ensure these technologies have Linux compatibility.

today's howtos