Hardware Modding and Freedom
Submitted by Roy Schestowitz on Wednesday 7th of July 2021 08:09:45 AM
Filed under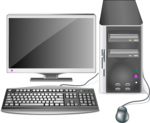 While the agency will ultimately decide the size and scope of the order, the presidential right-to-repair directive is expected to mention mobile phone manufacturers and Department of Defense contractors as possible areas for regulation. Tech companies including Apple Inc. and Microsoft Corp. have imposed limits on who can repair broken consumer electronics like game consoles and mobile phones, which consumer advocates say increases repair costs.

There is much confusion about the terms NVMe and SSD. In some cases, they are mistaken as two different drives, and sometimes their speeds are even compared. NVMe and SSDs are two very other things, but they work in tandem for faster storage access and data processing. NVMe is a protocol, an architecture that efficiently drives SSDs to work with the PCIe interface for optimum performance, while SSD is the storage drive itself. It is therefore incorrect to compare the speeds of NVMe and SSD. NVMe is the technology behind NVMe SSD's extremely fast speeds and lower latency.

The better and more specific question would be "Is NVMe faster than SATA SSD?" to which the answer would be a flat YES. NVMe SSDs are about 3-4 times faster than SATA SSDs with read-write speeds of up to 2000MB/s compared to the only 600MB/s of SATA SSDs. Unlike SATA and SCSI, NVMe doesn't need a controller to communicate with the CPU, making communication with the CPU even faster. NVMe uses four PCIe lanes, supports massive 64K queues, and can send 64K commands per queue. The NVMe protocol, however, requires only 13 commands for high performance.

NVMe SSDs also achieve lower latency than SATA SSDs. An NVMe SSD's data reading latency is 300 microseconds, while SATA SSD is 500 microseconds based on an actual test. Likewise, data writing for SATA SSD is 2 ms, while NVMe SSDs is only 1ms.[1] The differences seem negligible, but the differences are substantially evident when working on large volumes of data.

SATA SSDs, however, still have a price advantage over NVMe SSDs. NVMe-based SSDs have a higher price tag than SATA SSDs, the reason why SSDs using older technologies are still widely used today. SATA SSD's lower price is more practical for regular consumers who can settle for the modest speed that this type of SSDs offer.

All too often, those who are new to Arduino struggle with creating large projects due to a lack of experience and components. This can be frustrating, but Instructables user MAKE_IT WITH_ME decided to tackle this issue by designing a super cheap way to automate home circuitry from just a single Starter Kit. His build uses a single Arduino Uno, although it can easily be swapped with something like a Nano or Mega, along with a stepper motor/driver, servo motor, threaded rod, and an IR receiver + remote combo.

Axiomtek unveiled a Jetson AGX Xavier based "AIE900-902-FL" computer with dual lockable HDMI ports and 6x GbE, 4x of which offer PoE. There is also a more compact, Whiskey Lake based "eBOX565" box.

Axiomtek has announced the AIE900-902-FL, its first computer based on Nvidia's high-end Jetson AGX Xavier. There is also a much smaller, Whiskey Lake based eBOX565 system that is a minor variation of an earlier eBOX (see farther below).

The AIE900-902-FL follows earlier Jetson-based products such as the smaller AIE100-903-FL-NX, which similarly runs Linux on the lower-end Jetson Xavier NX. The system is designed for edge AI applications including 3D vision guided robots, autonomous mobile robots (AMRs), intelligent video analytics, domain-focused robot assistant, and intelligent roadside units.
»
Printer-friendly version

2313 reads

PDF version
More in Tux Machines
digiKam 7.7.0 is released

After three months of active maintenance and another bug triage, the digiKam team is proud to present version 7.7.0 of its open source digital photo manager. See below the list of most important features coming with this release.

Dilution and Misuse of the "Linux" Brand

Samsung, Red Hat to Work on Linux Drivers for Future Tech

The metaverse is expected to uproot system design as we know it, and Samsung is one of many hardware vendors re-imagining data center infrastructure in preparation for a parallel 3D world. Samsung is working on new memory technologies that provide faster bandwidth inside hardware for data to travel between CPUs, storage and other computing resources. The company also announced it was partnering with Red Hat to ensure these technologies have Linux compatibility.

today's howtos