Review: the Cosmo Communicator
Submitted by Roy Schestowitz on Friday 28th of May 2021 02:51:35 AM
Filed under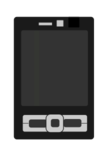 It's 2021, and it's time to upgrade your smartphone. Maybe it's getting slow, it might be damaged, or your device's OEM refuses to update your version of Android. Whatever the reason, you set your budget and full of hope and starry-eyed about all the possibilities, you go to your preferred electronics store (or carrier, if you're American) – and as you scroll through the possible phones, your hopes are shattered and your heart sinks in your shoes. Your choices are between an endless array of black slabs, and while you can technically choose between Android and iOS, you will have most likely made that specific choice ages ago, and switching platforms is hard.
Slightly dramatised, sure, but the reality of smartphones today is that all of them look and feel the same. The difference between mid range and high end have shrunk over the years, and while there are still small differences here and there, the general experience is going to be the same from device to device. Even if you skip a few years of upgrades, the jump in performance to the latest and greatest processor isn't going to make that much of a difference in your day to day use. While you can technically opt for one of the new folding phones, the reality is that they still suffer from early adopter problems, and their prices are far beyond what most of us would want to pay for a smartphone.
[...]
Since this is plain old Debian, pretty much anything in the Debian repositories will work, since ARM is a supported architecture. You can set up your own desktop the same way you would set up any KDE installation on a regular PC or laptop, and other than the smaller display, there's really nothing special or extraordinary about it.
The official Linux image for Cosmo also makes some special affordances for the device. It comes with a phone and SMS application, so you can make phone calls and send text messages right from within Linux. You can also set up the cover display as an external touchpad, but while an interesting gimmick, I did not find this particularly useful. Version 4 of the Linux image also introduces better support for the shortcut keys to control various aspects of the hardware, like WiFi, Bluetooth, and cellular. Sadly, this version was released a few days before my fiancee and I had to go to the hospital to deliver our child, so I haven't been able to test it quite yet. It requires a fresh installation due to a switchover from droid-hal-cosmopda-bin to lxc-android, and I do not feel comfortable performing such an installation on devices that aren't mine.
Performance of the Linux image was great, and I did not notice any serious shortcomings. Of course, if you come in expecting the performance of a big gaming laptop you're going to be disappointed, but if you have reasonable expectations, you won't be disappointed. It's too bad I couldn't test the external display support, because that would be an absolutely ideal use case for this device, especially for people who work in a variety of locations.
One downside of the Linux image is that it's based on Debian Buster, which means some of the packages are going to feel a bit outdated because Buster favours stability over bleeding edge. The KDE version, for instance, is three years old, which is perfectly fine and working well, but you will miss out on more recent features and improvements. It would be great if other, more up-to-date distributions, such as Ubuntu or Manjaro, could be made to work on the Cosmo for those of us of a more adventurous nature.

»
Printer-friendly version

4796 reads

PDF version
More in Tux Machines
digiKam 7.7.0 is released

After three months of active maintenance and another bug triage, the digiKam team is proud to present version 7.7.0 of its open source digital photo manager. See below the list of most important features coming with this release.

Dilution and Misuse of the "Linux" Brand

Samsung, Red Hat to Work on Linux Drivers for Future Tech

The metaverse is expected to uproot system design as we know it, and Samsung is one of many hardware vendors re-imagining data center infrastructure in preparation for a parallel 3D world. Samsung is working on new memory technologies that provide faster bandwidth inside hardware for data to travel between CPUs, storage and other computing resources. The company also announced it was partnering with Red Hat to ensure these technologies have Linux compatibility.

today's howtos