A New Year, A New Kwort
Submitted by srlinuxx on Wednesday 21st of March 2007 07:31:23 AM
Filed under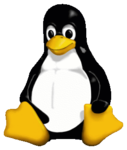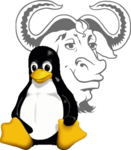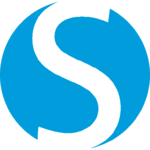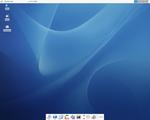 It was just about a year ago that I first tested slackware-based Kwort Linux. At that time I was impressed with its customized appearance and exclusive kpkg. Then kpkg wasn't included in the install image and I recall hoping it would be with later releases. I also recall being quite intrigued by the unique mascot of Kwort Linux, a creature I never quite defined. So, it was with great pleasure and anticipation that I began downloading their newest release, Kwort Linux 2.2.
Kwort is a slackware-based operating system featuring the Xfce4 desktop with Kwort's own Network Manager and kpkg package manager. Its minimum requirements are:
Processor: PC i486 or above.
RAM: 16Mb for base system (minimum). 32Mb for desktop (minimum), 64Mb recommended.
Disk Space: 200Mb for base system, 1.5Mb for full desktop (Openoffice 2.0 included).
Downloading the 486mb Kwort iso took a bit longer than one might wish, but it arrived and burnt without issue. Booting the disk brings one to a slightly modified slackware installer. It's not your more common mouse-driven framebuffered graphical installer, but still the nostalgically simple keyboard-driven ascii-graphical. There are but a few question to be answered in order to install Kwort, with the most difficult step for newcomers probably being partitioning if needed. Kwort has support for the ext2 and ext3 filesystems. This is a smart decision on their part as it will not require the use of an initrd image that be a bit difficult for newcomers to complete. Personally, my install went like clockwork and finished in very short order without issue. I could hardly wait to boot my new Kwort desktop. I admit, my fascination with the mascot was very motivating. What would I find on my desktop this time?
Seems Kwort Linux does have a new mascot this year. The new mascot appears to be a customized penguin in blue. He's pretty cute, but when I first saw it I thought to myself that his name must be Edward Scissorfins. I was disappointed he didn't reside on the desktop, but had to console myself with him on the start button. Kwort opted for more subtle wallpaper this time. Their new default background looks like a cross between KDE's and openSUSE's default. Looking through the settings one finds it's called aqua. The window decoration and style is just called xfce, but it looks very much like the one found as default in DreamLinux. In any case, the combination looks really pretty and polished.
Last year Kwort featured a 2.6.14 kernel, Xorg 6.9.0, gcc 3.3.6 and xfce 4.2.3.2 with Firefox 1.5 and OpenOffice.org 2.0. This year they have progressed to a 2.6.19 kernel, Xorg is still 6.9.0, gcc is 3.4.6, xfce4 is the 4.4.0 final, OpenOffice.org is version 2.0.4, and Firefox is 2.0.0.2. Some other interesting packages include wireless tool, ndiswrapper, openssl, iptables, wget, and bind. Also found are Gaim 2.0b6, Gimp 2.2.1.3, Sylpheed, graveman, ffmedia, and more.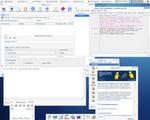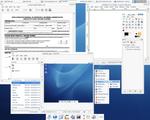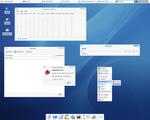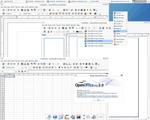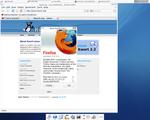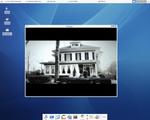 Of course Kwort comes with all the great little modules found in Xfce4's settings center as well as the Xfce4 panel applet module. In addition, Kwort has added their own Kwort Network Manager to the Xfce settings manager. In it one can configure their network connection to suite their needs, including hostname, domainname server, gateway, and supposedly their ethernet or wireless specifics. I had a bit of trouble with the later mentioned. The wireless tool didn't open and the lan configuration opened the Xdialog box instead of the target app. However, the net connection is configured during install and remains afterwards. This whole app is a nice addition and I look forward to its future refinements and capabilities.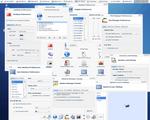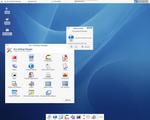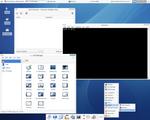 But I think one of the best things about Kwort is their package management system. Kpkg is a simple easy way to search for packages, install or uninstall individual or groups of packages, or upgrade the system over a net connection from a remote mirror. At this time it is still a commandline tool very much in the same ilk as apt-get. In fact, the operations mimic apt-get very closely. Some of the more common uses include:
kpkg update
kpkg install <package/app name>
kpkg search <package/app name>
There are more advanced options as well. In fact, they have some wonderful documention online at their site. I did run into a glitch or two when installing some packages. The first being dependencies. For example, I installed MPlayer and it installed without error and even put an entry in the menu. However it wouldn't open. Seems it needed libspeex and libsdl. Trying to start it from the commandline revealed the problems and the needed libraries were just a kpkg install away. Another was problems installing a package or two. I thought there might be a more major problem at first, but I think now it was due to Kwort's slow mirror. Rerunning the request a second time completed it just fine. So, there may be little hiccups along the way, but overall the kpkg system seems to function really well. I think Kwort could really use a faster mirror. If anyone knows of someone who might be able to mirror the Kwort isos and packages I imagine they'd like to hear of it. Please keep them in mind.
So, after figuring out the dependency issue with MPlayer and issuing a kpkg install win32codecs I was able to watch any of my video files on hand. Flash and java aren't included on the iso, but Flash is in the repository. I didn't find cups or xsane backends. Removeable media isn't automatically mounted upon insertion, but that is on the lead developer's wish-list.
Overall I really like this little light-weight system. It seemed very easy to install and use. It was stable and fast, even OpenOffice.org opened in a mere 2 or 3 seconds. It looks better than ever and includes a nice selection of apps to get one started. In addition, their package repository is being enhanced everyday. If you'd like a nice slackware based system with Xfce4 as the desktop, Kwort is a viable option. It's just a really cool little system.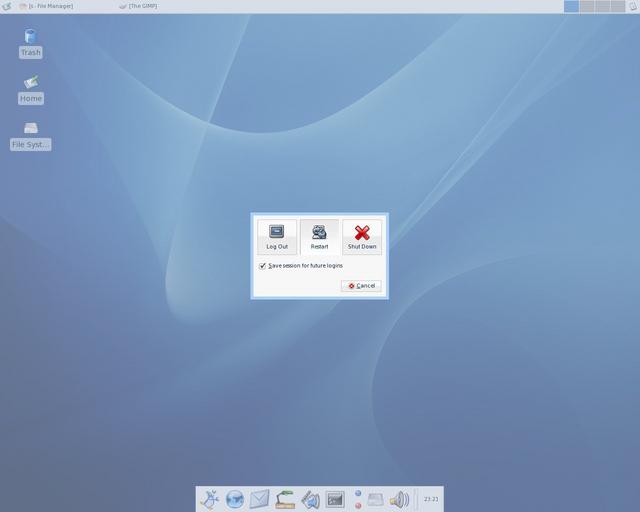 »
Printer-friendly version

54355 reads

PDF version
More in Tux Machines
digiKam 7.7.0 is released

After three months of active maintenance and another bug triage, the digiKam team is proud to present version 7.7.0 of its open source digital photo manager. See below the list of most important features coming with this release.

Dilution and Misuse of the "Linux" Brand

Samsung, Red Hat to Work on Linux Drivers for Future Tech

The metaverse is expected to uproot system design as we know it, and Samsung is one of many hardware vendors re-imagining data center infrastructure in preparation for a parallel 3D world. Samsung is working on new memory technologies that provide faster bandwidth inside hardware for data to travel between CPUs, storage and other computing resources. The company also announced it was partnering with Red Hat to ensure these technologies have Linux compatibility.

today's howtos