MNT Pocket Reform is a complete Linux laptop in 7 inches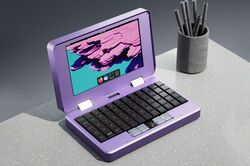 A fully open hardware and software laptop is already intriguing but what if it could be folded to fit in your pocket? The MNT Pocket Reform does exactly that in a 7-inch clamshell that comes with Debian GNU and supports other Linux distributions. You can wow your friends with this mini computer's mechanical keyboard, 1080p display, and modular design that invites you to adapt and expand it to meet your own needs.
To be fair, you'll need a somewhat roomy pocket to be able to fit the MNT Pocket Reform inside. The original plan was for a 5-inch screen but the MNT team told IEEE Spectrum this size made the keyboard too cramped for comfort so it was scaled up a bit to make typing easier.
Another one today:
MNT Research, makers of the Reform open source laptop, has released details of its newest project: the MNT Pocket Reform. The retro-style mini computer features a seven-inch screen with a clamshell design.

According to the website, the Pocket Reform is fully featured, modular, upgradable, recyclable, and reusable, with fully open source hardware and software. "With Pocket Reform, we're building a small, portable computer that is transparent about what it's running and that gives control back to the user, control over operating systems, updates, and software," the website states.