Debian: Version 3.1 of QSoas is out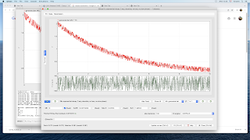 Starting from now, all the binary images for the new versions of QSoas will freely available from the download page. You can download the precompiled versions of QSoas for MacOS or windows. So now, you have no reason anymore not to try ! My aim with making the binaries freely available is also to simplify the release process for me and therefore increase the rate at which new versions are released.
Some work went into improving the fit interface, in particular for the handling of fit trajectories when doing parameter space exploration, for difficult fits with many parameters and many local minima. The fit window now features real menus, along with tab a way to display the terminal (see the menus and the tabs selection on the image).