KDE Gear 23.04.2 Is Out to Improve Dolphin, Kdenlive, and Other KDE Apps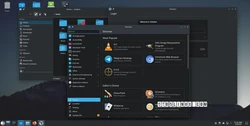 KDE Gear 23.04.2 is here less than a month after KDE Gear 23.04.1 and improves the Dolphin file manager to remember opened tabs on launch if it is configured this way by the user. It would appear that this functionality broke recently during the process of fixing a bug.
The Spectacle screenshot tool has been updated so that its sidebar can accommodate long button text in some languages and the Gwenview image viewer now opens the specified app when using the "Open With" menu instead of a different one.
Planet KDE:
Over 120 individual programs plus dozens of programmer libraries and feature plugins are released simultaneously as part of KDE Gear.

Today they all get new bugfix source releases with updated translations, including...