Finnix 125 Linux Distro Arrives for Sysadmins with Linux Kernel 6.1 LTS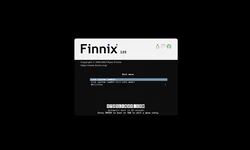 Powered by the long-term supported Linux 6.1 LTS kernel series, Finnix 125 is here to introduce several new packages, namely the aespipe AES encrypting/decrypting pipe, iperf3 network performance measurement and tuning tool, ncdu disk utility, and netcat-traditional as the "classic" version of the netcat computer networking utility.
Finnix 125 also comes with an updated apt update command that will now download both "testing" and "unstable" indices to allow users to install packages that may be hinted out of testing. However, the developer notes the fact that apt pinning is set to "testing" by default.
Update (by Roy)
Today marks the release of Finnix 125, the original utility live Linux distribution. Finnix 125 includes a number of fixes, new packages and new features:

Linux kernel 6.1 (Debian 6.1.0-6)
New packages: 2048, aespipe, iperf3 (finnix/finnix#37), ncdu, netcat-traditional, ninvaders, vitetris
Note that netcat-openbsd continues to be included and is the default nc
apt update will now download both "testing" and "unstable" indices, to allow for installing packages which may currently be hinted out of testing. Apt pinning is configured so testing will continue to be preferred to unstable, however.
Updated to memtest86+ 6.10, which now includes a UEFI version which is included in the "Utilities" boot submenu when booting on a UEFI system. Note that this is not signed and will not work with Secure Boot.
7z will invoke the installed 7zr program, unless the user explicitly installs "p7zip-full"
Upstream Debian package updates
Many minor fixes and improvements
Note for people who embed Finnix in other systems: boot=live is no longer needed to be passed as a kernel boot command line.