Help Test a New Version of the Iconic Ubuntu Font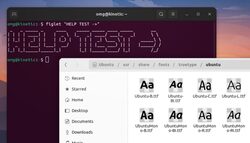 Ubuntu developers want to ship a new revision of its iconic typeface in next month's Ubuntu 23.04 release but aren't 100% certain if it is 100% ready for mainstream deployment yet.
Hence the need for community feedback.
Since its introduction back in 2010 the Ubuntu font has taken on a life of its own, extending far beyond the confines of the desktop it was made for. I regularly see the Ubuntu font being used in all kinds of content, from magazine ads to bus stop ads, websites and social media clips, through to the occasional TV commercial or two!
Neowin:
In 2010, with the release of Ubuntu 10.04 LTS, Canonical decided to paint Ubuntu purple, replacing the brown theme it used before. It also took the redesign as an opportunity to include a new font simply called Ubuntu Font. While the sans-serif font is ideal for desktops and mobile, the font was picked for other uses too by other companies and projects thanks to its open license.

Thirteen years after its release, Canonical is now working on an updated version of Ubuntu Font which it hopes to include in Ubuntu 23.04 "Lunar Lobster", which is due next month. To ensure that the font is ready, Canonical is calling on the community to download the updated font and look out for any problems and report back with screenshots.