New Video Gives Early Look at GNOME Shell for Mobile Devices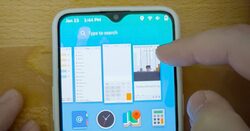 Last year GNOME developers landed a grant from the German government to help fund work on adapting GNOME Shell to mobile devices.
Though much of that effort is in (active) development, it appears to be going well.
You don't have to take my word for it, mind – you can see for yourself.
Endless OS' Cassidy James Blaede recently shared a 27-minute hands-on video. In it, he demonstrates how GNOME Shell for mobile looks, works, and performs at present.
We're talking the full run of typical tasks here: opening apps, closing apps, switching apps, getting notifications, taking screenshots, changing wi-fi network, dealing with an especially needy on-screen keyboard — the works.