This Extension Adds Bluetooth Management to GNOME Quick Settings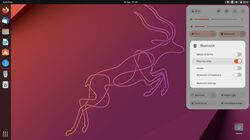 The new 'Quick Settings' UI in GNOME 43 makes it easier to switch audio output, swap power plan, and change Wi-Fi network than in earlier builds of the desktop environment.
But it doesn't (yet) do the same for Bluetooth connections — which is where the Bluetooth Quick Connect GNOME extension comes in.
As-is, with Quick Settings in GNOME 43 you can enable/disable bluetooth by clicking on the bluetooth "pill" but you can't do anything else, like see a list of bluetooth devices you can connect to. To do that, you still have to the full-fat Settings app, head to Bluetooth section, and do it from there.