Streaming with Linux: Deezer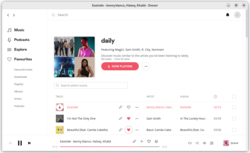 This is a series that surveys popular streaming services from a Linux perspective. We are not reviewing any of the streaming services themselves although we may make subjective comments along the way.
Deezer is a French online music streaming service. It allows users to listen to music content from record labels, as well as podcasts on various devices online or offline. The service offers 90 million tracks, 160,000 podcast titles, and in excess of 32,000 radio stations. The breadth of its content means it's broadly comparable to the material available with Spotify and Amazon Music Unlimited. Like its rivals, there is a free plan and various paid subscriptions. Deezer offers lossless FLAC files at 16-bit/44.1 KHz, which is significantly higher than the bitrate offered by Spotify. Like Spotify, Deezer offers some exclusive content.
There is a desktop app available for Linux. We installed it from the Arch User Repository. This isn't a native application (it's Electron-based).