Microsoft Continues to Lose Share in Web Servers
Submitted by Roy Schestowitz on Thursday 30th of June 2022 11:49:03 PM
Filed under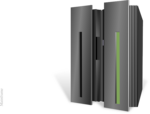 In the June 2022 survey we received responses from 1,146,976,964 sites across 273,010,403 unique domains and 12,224,786 web-facing computers. This reflects a loss of 8.75 million sites and 583,000 domains, but a gain of 155,000 computers.

Cloudflare experienced strong growth this month, gaining 2.99 million sites and 85,000 domains, representing a 4.64% growth in its number of sites. Cloudflare experienced a significant outage on 21 June, impacting around half of the total requests made to its network. The outage lasted around an hour and a half and affected a significant number of popular sites. 20.2% of the million most visited sites rely on Cloudflare (up 1,400 sites since last month).

The three largest vendors by the million most visited sites metric—Apache, nginx, and Cloudflare—all have similar market share, though only Cloudflare gained market share this month. Apache saw the largest loss, dropping 2,190 sites (-0.96%), while nginx lost 280 sites (-0.13%).

LiteSpeed gained a significant number of sites with an addition of 2.96 million (+5.89%), and gained 171,000 (+2.21%) domains - the second largest increase this month. The number of web-facing computers using LiteSpeed also showed strong growth, increasing by 4,460 (+3.44%) to a total of 134,000.

nginx and Apache remain the two largest server vendors, though both saw similar losses of 6.52 million (-1.84%) and 6.18 million (-2.33%) sites this month. Despite this, nginx gained 795,000 (+1.06%) domains and saw continued growth in the number of web-facing computers with 158,000 (+3.44%) computers. Conversely, Apache lost 1.07 million domains (-1.71%) and 25,700 (-0.74%) web-facing computers.

The US Department of Energy has a single 2 exaflops system up and running – well, most of it anyway – and that of course is the "Frontier" system at Oak Ridge National Laboratory and two more slated for delivery, and that is the "Aurora" system at Argonne National Laboratory supposedly coming sometime this year and the "El Capitan" system at Lawrence Livermore National Laboratory, which is due next year. It took a lot of money and sweat to get these machines into the field – in Intel's case, the sweat to money ratio has been pretty high given the four-year delay and massive architectural changes involved the latest and final incarnation of Aurora.
»
Printer-friendly version

1631 reads

PDF version
More in Tux Machines
today's howtos

Open Hardware: XON/XOFF and Raspberry Pi Pico

In the olden days of computing, software flow control with control codes XON and XOFF was a necessary feature that dumb terminals needed to support. When a terminal received more data than it could display, there needed to be a way for the terminal to tell the remote host to pause sending more data. The control code 19 was chosen for this. The control code 17 was chosen to tell the remote host to resume transmission of data.

Dmytro Panin is at it again, creating a teeny system monitor for his MacBook from scratch with help from our favorite microcontroller, the Raspberry Pi Pico. This plug-and-play system monitor (opens in new tab) lets him keep a close eye on resource usage without having to close any windows or launch any third-party programs. The device is Pico-powered and plugs right into the MacBook to function. It has a display screen that showcases a custom GUI featuring four bar graphs that update in real-time to show the performance of different components, including the CPU, GPU, memory, and SSD usage. It makes it possible to see how hard your PC is running at a glance.

Security Leftovers

How to Apply Accent Colour in Ubuntu Desktop

A step-by-step tutorial on how to apply accent colour in Ubuntu desktop (GNOME) with tips for Kubuntu and others.