KDE Frameworks 5.107 Enables Thumbnail Caching on Encrypted Volumes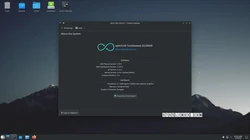 KDE Frameworks 5.107 looks like a small update that only improves support for installations with an encrypted home directory by storing thumbnails in their typical cache location so that they won't have to be re-generated all the time.
It also improves dark mode support for KDE apps when they are running on other desktop environments than KDE Plasma and the plasma-integration package is not installed. This change was implemented in the Breeze icon set, which now correctly uses light colors instead of staying dark.
The Original Post:
KDE Frameworks are 83 addon libraries to Qt which provide a wide variety of commonly needed functionality in mature, peer reviewed and well tested libraries with friendly licensing terms. For an introduction see the KDE Frameworks release announcement.

This release is part of a series of planned monthly releases making improvements available to developers in a quick and predictable manner.