Check Out This Awesome Adwaita Theme for Steam Linux Client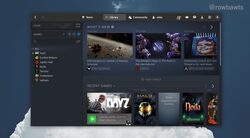 Are you an avid gamer who loves the look of GNOME's Adwaita theme? If so, there's now an unofficial Adwaita theme for the Steam games client.
It's called (no surprises) 'Adwaita for Steam' and, by and large, it does exactly what you think it does: it makes Steam look (almost) like a regular GTK app. As Steam sports a dark appearance by default this third-party skin is also dark (fyi: are no plans to create a light version, sadly).