VideoLAN has issued a legal notice to DoT and MeitY for banning their website in India (UPDATED)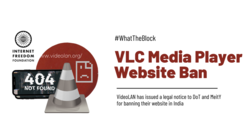 VideoLAN's URL from which users download the VLC Media Player (which is still open-source and ad-free!) appears to have been banned by the Department of Telecommunications ('DoT') in India since March 2021. This was done without any prior notice, or affording VideoLAN an opportunity of hearing, which is contrary to the 2009 Blocking Rules and the law laid down by the Supreme Court in Shreya Singhal v Union of India. IFF assisted in the drafting and dispatch of this legal notice.
[...]
VideoLAN is a not-for-profit organisation that developed VLC - a free and open source, media player software that was released for public use in 2001. We all use VLC for running various kinds of media files and streaming. Over the years, VLC has grown in scale and has become compatible for use in various devices and platforms. It can be downloaded on desktop operating systems, Android, iOS and iPadOS through various distribution platforms such as Apple's App Store, Google Play, and Microsoft Store, in addition to its website.
VLC is currently being used by 80 million Indians, and has consistently seen an average of 25 million downloads per year in India since its release. For millions of Indians VLC is the primary choice for running all kinds of media formats for free. In March 2022, VideoLAN's home page was banned in India without any prior notice to VideoLAN.
UPDATE
The Register today or this week:
Developers of the open source VideoLAN media player have challenged India's government to explain why the project's website has been blocked.

As The Register reported in August 2022, the videolan.org site has been unavailable in India since March 2022, meaning the official source of downloads not available. No official explanation for the block has been offered.

As VLC is open source the occasional clone infected with malware has appeared – with Chinese actors suspected as the source.

India has banned many Chinese apps on national security grounds. But VideoLAN's home base is France, not the Middle Kingdom. And VLC is not known or rated to pose a sterner risk of carrying either malware or the kind of nasty content India's government likes to ban. The argument has also been made that driving would-be users to third party download sites increases the chances of poisoned clones being passed off as legitimate, making a ban on security grounds ineffective.

Activists protested the blocking of the project's site and now one such group – India's Internet Freedom Foundation – has stated that it helped VideoLAN to write a letter to India's Ministry of Communications and Ministry of Electronics & Information Technology that demands an explanation for the blocking of videolan.org.