Oaxaca, Endless OS, and indigenous languages
Submitted by Roy Schestowitz on Thursday 11th of August 2022 05:54:12 PM
Filed under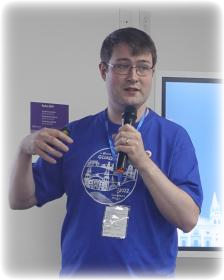 A rural Mexican state was the setting for an initiative to use the GNOME-based Endless OS to improve education in indigenous communities. Over the last several years, the Endless OS Foundation has teamed up with the Fundación Alfredo Harp Helú Oaxaca (FAHHO) to deliver offline-first computers to those communities, but also to assist these communities in preserving their native languages. In a talk at GUADEC 2022, Rob McQueen provided a look at the project and what it has accomplished.
McQueen was not slated to give the talk—he already gave an earlier presentation at the conference—but Sergio Solis, who is from Guadalajara where the conference was held, was unfortunately unable to attend due to his family coming down with COVID. McQueen apologized for flying into Mexico from England to give a talk about Mexico when he had never been to the country before. But, as the CEO of the Endless OS Foundation, McQueen is obviously knowledgeable about the project and was able to step in and pinch-hit for Solis.
»
Printer-friendly version

396 reads

PDF version
More in Tux Machines
today's howtos

Open Hardware: XON/XOFF and Raspberry Pi Pico

In the olden days of computing, software flow control with control codes XON and XOFF was a necessary feature that dumb terminals needed to support. When a terminal received more data than it could display, there needed to be a way for the terminal to tell the remote host to pause sending more data. The control code 19 was chosen for this. The control code 17 was chosen to tell the remote host to resume transmission of data.

Dmytro Panin is at it again, creating a teeny system monitor for his MacBook from scratch with help from our favorite microcontroller, the Raspberry Pi Pico. This plug-and-play system monitor (opens in new tab) lets him keep a close eye on resource usage without having to close any windows or launch any third-party programs. The device is Pico-powered and plugs right into the MacBook to function. It has a display screen that showcases a custom GUI featuring four bar graphs that update in real-time to show the performance of different components, including the CPU, GPU, memory, and SSD usage. It makes it possible to see how hard your PC is running at a glance.

Security Leftovers

How to Apply Accent Colour in Ubuntu Desktop

A step-by-step tutorial on how to apply accent colour in Ubuntu desktop (GNOME) with tips for Kubuntu and others.