See System Resource Usage in Ubuntu's Top Panel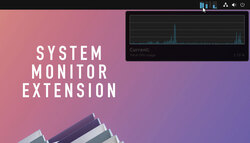 But if you're keen to keep an eye firmly fixed on system resource usage the newly launched SystemStatsPlus GNOME extension will appeal (though only if you use Ubuntu 23.10, as this only supports GNOME 45 atm).
SystemStatsPlus provides "real-time visualization of key system resources", and described itself as "an essential tool for anyone looking to keep a close eye on their system's performance".
Once installed, this extension embeds live, updating resource graphs in the top bar/system tray. You get individual graphs for...
Update
More on this: