Mozilla Firefox 120 Is Now Available for Download, Here's What's New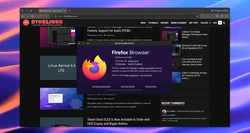 Firefox 120 introduces the ability for Ubuntu users using Firefox Snap to import browser data from the Chromium web browser when it's installed as a Snap package, as well as a new "Website Privacy Preferences" feature in Privacy & Security settings that tells websites not to sell or share your data or to send a "Do Not Track" request.
Two other new privacy and security features have been added in Firefox 120, namely the ability to import TLS trust anchors (e.g., certificates) from the operating system root store in Privacy & Security > Certificates, and a new "Copy Link Without Site Tracking" context menu option if you want to copy a link without any tracking information.
Update
From OMG!Joey:
Mozilla Firefox 120 has landed, bringing with it a flurry of new features and improvements. Firefox 120 now supports corner snapping for Picture-in-Picture (PIP) mode on backdoored Windows and Linux. This will put a PIP window back in a corner after it's been moved elsewhere.
LWN:
Version 120.0 of the Firefox browser is out. Changes include a new "copy link without site tracking" option, the ability to enable the Global Privacy Control feature, and some additional privacy features seemingly restricted to users in Germany. The browser will now also import TLS root certificates from the operating system by default on Windows, macOS, and Android.
From Ji M:
Mozilla announced Firefox 120.0 a day ago as the latest stable release of the popular web browser. The new release continue adding new security improvements.