TUXEDO Pulse 14 Gen3 Linux Laptop Unveiled with AMD Ryzen 7 7840HS CPU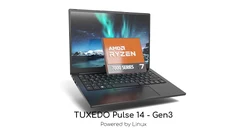 TUXEDO Pulse 14 is one of TUXEDO Computers' lightest Linux powerhouse laptops and the Gen3 model is powered by the 4nm AMD Ryzen 7 7840HS processors with 8 cores, 16 threads, 24 MB cache (L2+L3), 54 W TDP, and up to 5.1 GHz clock speed, as well as an AMD Radeon 780M integrated GPU with 12 cores and up to 2.7 GHz clock speed.
Featuring a 60 Wh changeable Lithium polymer battery promising up to 14 hours of runtime, the 3rd generation TUXEDO Pulse 14 laptop comes with a generous and gorgeous 14-inch LPTS 3K matte display with a resolution of 2880x1800 pixels, 120 Hz refresh rate, 16:10 aspect ratio, and 300 nits brightness.
BetaNews:
In a market where the word "ultraportable" often means compromising on power, the Pulse 14 emerges as a welcome paradox. This latest offering from TUXEDO is not just another addition to the mobile workstation pantheon; it redefines efficiency and performance in a form factor that challenges the status quo.

True to TUXEDO's roots, the Pulse 14 is a Linux-lover's dream, shipping with full support, pre-installed drivers, and custom-developed software packages. And for those who walk the line between Linux and Windows, the Pulse 14 offers the flexibility of Windows 11 as well.
OMG Ubuntu:
They've just launched a refresh of the TUXEDO Pulse 14, their ultra-portable laptop. The latest model is powered by an AMD Ryzen 7 7840HS, integrated AMD Radeon 780M graphics, and a sizeable 32 GB LPDDR5-6400 RAM (soldered).

A 500GB NVMe SSD comes in the base configuration, preloaded with TUXEDO OS (based on Ubuntu LTS, though other distros options are available). Want more storage? Additional storage configurations are available but will increase the price (marginally; this isn't Apple).

The TUXEDO Pulse 14 comes with a 120Hz, 3k (2880×1800, 16:10) matte display with a max 300nits. On paper this reads decent, but since I haven't seen it in person I can't be too gushing about it (as I am VERY fussy about displays).
Later coverage:
This article is sponsored by TUXEDOComputers, a German company that produces GNU/Linux hardware, notebooks, computers [...]