FSF celebrates forty years of GNU with a hackday for families, hackers, and hackers-to-be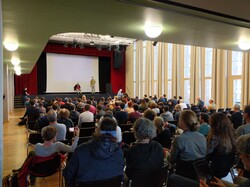 On September 27, 1983, Richard M. Stallman announced the development of the GNU operating system and thereby initiated the global free software movement. Today, the GNU operating system is entirely composed of free software, i.e. it gives the user the freedom to use, study, modify, and share it. GNU, usually combined with the kernel Linux, enables millions of people everyday around the world -- including entire governments -- to operate their computers in freedom.
FSF executive director Zoë Kooyman stresses that the FSF and the GNU Project's values of freedom, community, sharing, and learning are as important today as they were forty years ago. Kooyman says, "To use free software is to make an ethical choice asserting the right to learn and share what we learn with others. We are delighted to see that over the past forty years, the free software movement has become a blueprint for a society where we share our knowledge in a way that others can build upon and enjoy."
The FSF is the fiscal sponsor of the GNU operating system, and the organization spreads awareness of, and advocates for, software freedom.
Christine Hall:
Oddly, the single keynote address at the event to celebrate GNU's 40th birthday in Biel, Switzerland wasn't scheduled at the start of the day, but in the early afternoon, at 2 pm local time. This eccentric scheduling only seemed to make sense, given the fact that the speaker was Richard Stallman, GNU's founder who has always marched to his own beat.

Officially billed as a "hacker meeting," Biel's GNU community pretty much pulled out all of the stops for a relatively small one-day event. The speakers' roster included the likes of Nextcloud co-founder Björn Schießle who talked about "The Next 40 years of Free Software"; Matthias Kirschner, president of FSFE who opened the day with "The FSFE's Work: An Overview for Free Software Hackers"; and Swiss Parliament member Jörg Mäder, who was on hand to talk about GNU Taler, GNU's privacy-aware online payment system.