MX Linux 23 Is Now Available for Beta Testing Based on Debian 12 "Bookworm"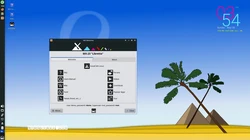 Based on the upcoming Debian 12 "Bookworm" operating system series, MX Linux 23 is powered by the long-term supported Linux 6.1 LTS kernel series and uses sysVinit as the default init system instead of system, and comes in three editions with the Xfce 4.18, KDE Plasma 5.27 LTS, and Fluxbox 1.3.7 graphical environments.
There's lots of cool stuff in the MX Linux 23 release, including support for swapfiles in the installer and used by default for the "regular" auto installation method, support for PipeWire and WirePlumber for managing audio instead of PulseAudio, as well as the nala command-line APT frontend as the default backend for MX Updater.
Update (by Roy)
MX Linux pays homage to its origins with a logo revamp, unveiling the highly anticipated MX-23 'Libretto' public beta.
Fagioli (Windows name-dropping):
In a world dominated by Windows, it's refreshing to see alternative operating systems stepping up their game. MX-23 beta 1, built from Debian 12 "Bookworm" and MX repositories, offers a promising option for users seeking an alternative to the Windows experience. With a range of new features and improvements, MX-23 beta 1 presents itself as a reliable and user-friendly operating system. Let's delve into the details and explore why MX-23, code-named "Libretto," is a compelling choice for those looking to break free from Windows.

The MX-23 beta 1 installer introduces several noteworthy improvements. One standout feature is the support for both swap partitions and swapfiles. The option to default to swapfiles during the auto installation process adds flexibility to system configuration. Additionally, the installer now features GUI adjustments and enhanced help guidance, making the installation process more intuitive for users. MX-23 beta 1 also introduces the -oem option, enabling user creation on the first boot after installation, further streamlining the setup experience.

The live boot menus in MX-23 beta 1 have been enhanced to provide users with a more convenient "check media" function. This addition allows for quick media verification, ensuring a smooth boot process if everything appears to be in order. With these improvements, MX-23 beta 1 prioritizes user convenience and minimizes potential issues during the booting phase.