ZimaBoard 832 Single Board Server Review for All Creators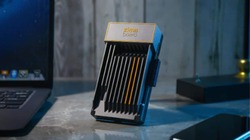 The ZimaBoard 832 Single Board Server is a compact and powerful solution that caters to a wide range of server applications. In this comprehensive review, we will explore its design, features, and capabilities, highlighting its potential as a versatile and efficient server platform.
[...]
Once the hardware setup is complete, the next step is to install the operating system (OS) on the ZimaBoard 832. The board supports a range of OS options, including Linux distributions such as Ubuntu, Debian, or Fedora.