MYIR unveils Renesas RZ/G2L based embedded modules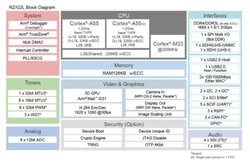 The company has also unveiled a compatible development board providing access to peripherals such as 1x GbE LAN ports, 1x HDMI, 2x USB 2.0 ports, 1x RGB connector, 1x LVDS connector, 1x MIPI CSI connector, a 40-pin expansion pin header and many other peripherals.
MYIR indicates that the development board supports Linux 5.10 and Android OS. Additionally, they will provide peripheral drivers to speed up product development. See the Software section on the product page for more details.