OBS Studio 29.1 Promises AV1/HEVC Streaming over RTMP, Lossless Audio Recording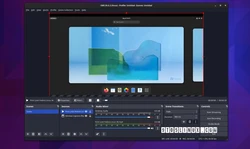 OBS Studio 29.1 promises new features like support for streaming AV1/HEVC over RTMP for YouTube, support for surround sound for AJA capture cards, new lossless audio recording options for FLAC, ALAC, and PCM (including 32-bit float), as well as support for multiple audio tracks in Simple output recording.
The upcoming OBS Studio release also promises features like a setting to record in fragmented MP4 and MOV video formats, new settings to select the audio encoder for streaming and recording, and a new option to preload media sources used in Stingers to memory.
Update (by Roy)
More coverage:
The team working on the free and open source video recording and livestreaming software OBS Studio, have released the first Beta for version 29.1 with a big new feature.